VIRTUAL DRIVE
The new Virtual Reality Control Mode
The new Virtual Drive – as a concept study, the virtual-reality (VR) control system developed by PALFINGER EPSILON offers some early insight into the control technology of tomorrow.
A perfectly designed VR control system offers not only enhanced driver comfort and safety but also a range of additional benefits such as a better overview of the situation, additional loads and reduced fuel consumption.
With the Interforst concept prototypes, EPSILON is showcasing a fully functional, state-of-the-art system that offers a range of new features not available with current systems.
You'll be amazed at what's possible with the technology that's already available, albeit with one slight caveat. Technological progress – especially in the field of VR glasses – is currently not quite as advanced as EPSILON would like.
For example, the resolution and field of vision of the VR glasses that are currently available are still limited compared with crane operation without VR assistance.
Despite our global quest for the very best VR technology and the fact that we are using the most state-of-the-art VR glasses currently available on the market (and that represent a tangible improvement on older systems), the technological progress being made in this field still does not meet the typically high standards expected by PALFINGER EPISLON.
But EPSILON is well equipped for the future! As soon as VR glasses offer the kind of resolution we expect, there'll be no stopping us. We are continuing to monitor developments in this field together with our international team and will keep our customers up to date on progress in the future.
In the meantime, experience what VR technology can already offer and how easy and intuitive it is to use this crane controller – especially in combination with electronic assistance from Smart Control.
Virtual Drive video explanation by Stefan Oberleitner (MD EPSILON Kran GmbH)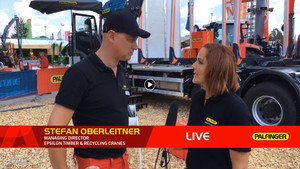 More information on EPSILON digitalisation developments